NEW YORK, New York - Sanity prevailed on Saturday as last minute efforts to stitch up a renewal of the agreement for access at various points to enable the delivery of much-needed humanitarian aid was successful.
China and Russia spent much of the week using their veto against three separate resolutions to ensure they did not pass.
At issue were certain access points that the two countries did not want to see included.
Eventually a compromised resolution encompassing the acceptable points that were not in dispute was adopted.
Still China and Russia, while not vetoeing the resolution, abstained from voting on it. They were joined by the Dominican Republic.
Countries voting for the resolution were Germany, Belgium, Estonia, France, Indonesia, Niger, St. Vincent and the Grenadines, South Africa, Tunisia, the United Kingdom, the United States and Vietnam.
The previous six year term of the agreement expired at midnight on Friday. The renewal is for just one year.
"It is good news for millions of people in Syria that the Security Council was ultimately able to agree on our compromise proposal", German Foreign Minister Heiko Maas said Saturday.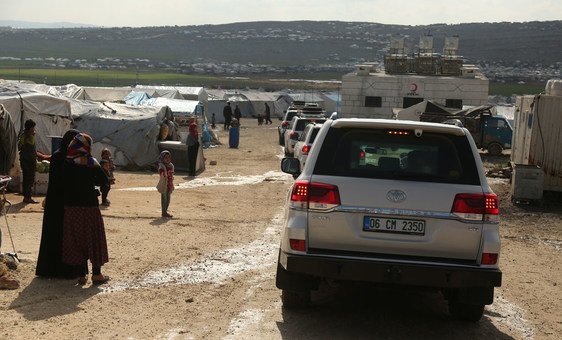 Secretary-General Antnio Guterres through a spokesperson said the reauthorization would help safeguard assistance for "2.8 million people-in-need." .
"Cross-border humanitarian assistance remains a lifeline for millions of people-in-need in the area and beyond", he said Saturday.
The Secretary-General reminded countries with a stake in the conflict that access for the delivery of humanitarian must be provided under international law.
He said deliveries through Bab al-Salam and Bab al-Hawa are not only operating at record levels, but and really need to be scaled up in response to the COVID-19 pandemic.
He recommended that authorization for both crossing points be extended for an additional 12 months, adding that a failure to renew would sever lifeline from millions whom the United Nations cannot reach by other means.
The risks of malnutrition and food insecurity after years of conflict have been exacerbated by the COVID-19 pandemic, which is also causing significant disruption to education due to measures put in place to prevent the spread of the coronavirus, UNICEF has said.
Grave violations of children's rights recruitment, abductions, killing and maiming continue unabated. On average, a child in Syria has been killed every 10 hours due to violence. Meanwhile, nearly 6 million Syrian children have been born since the crisis began, growing up knowing nothing but war and displacement, UNICEF said.